Special rental price for Sawasdee Application Customers
Price included Full Protection Insurance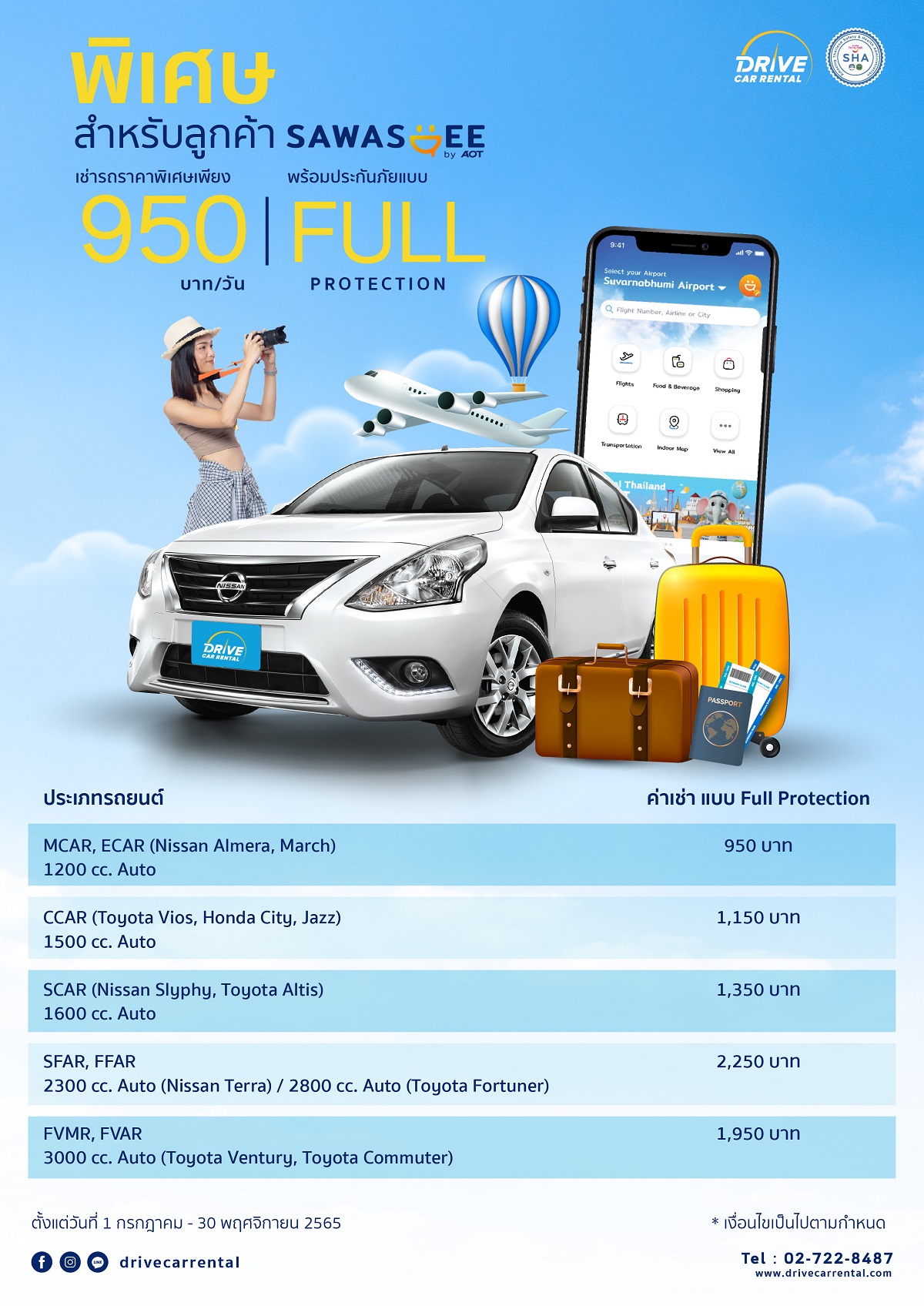 Terms & Conditions:
1. Special privileges for AOT Application customers to book a car with www.drivecarrental.com / Call center Tel. 02-821-5992 valid until 30 November 2022.
2. Have a valid driving license
3. Please show the credit card used for car booking and pay by credit card on the day of the rental car pick up.
4. This price included personal accident insurance. And car insurance (Full Protection)
5. Renter's Qualifications: Renter must be at least 21 years old to rent a car. The main and additional driver must hold a valid driver's license, passport or identity card. Show when pick-up the car Drivers must have a record of safe driving and a driving license must be at least 1 year old and the driver's license is not expired.
6. The renter must have a driver's license or an international driver's license (or a non-English driver's license translation document).
7. Renter must be the owner of the credit card to pay the deposit (Must have an amount sufficient for the deposit of 10,000 -20,000 baht)
8. Limit deposit: The deposit will be pre-authorized to the credit card. Depending on the car rental model Small cars, engines 1.2-1.6 cc, deposit amount 10,000 baht and large cars, engines 2.0 cc or more, deposit limit 20,000 baht, this deposit amount will be returned to the credit card when the customer returns the car. And in perfect condition according to the specified conditions
9. In case you want the company to pick-up and send the car off-site, the company has a pick-up service as follows:
– Free car pick-up service for customers who rent a car over 7 days
– For a distance of 21 – 50 kilometers, the price is 321 baht / trip.
– For a distance of 51–70 kilometers, the price is 749 baht / trip.
– For pick-up and drop-off services in the provinces and beyond 70 kilometers (Calculated according to distance)
10. Can return the car late for free 1 hour
11. Any questions or reserve the car in advance Before departure, Call Center 0 2821 5992 to Reservation Department (daily 8.30 -17.30).
12. The company reserves the right to refuse booking if the vehicle is not available during long holidays and festivals.