Krabi Car Rental
Visitors to the serene coastal province of Krabi can find the most affordable Krabi car rental options by looking for Drive Car Rental at Krabi Airport.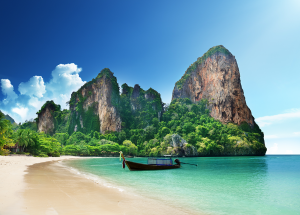 Why Hire a Car in Krabi Province
The coastal town of Krabi is both a provincial capital and a major hub for travel to some of the region's most popular islands and beaches, including Ko Phi Phi, Ko Lanta, Ao Nang, Klong Muang and Laem Phra Nang (Railay). While less commercialized than neighboring Phuket, Krabi Province has its own attractions. Krabi receives approximately two million visitors a year, and its major tourist areas specifically cater to foreigners. A car rental is one of the best ways to navigate around Krabi.
Krabi Location and Geography
Krabi borders the Andaman Sea and is located 814 kilometers south of Bangkok. It covers an area of 4,708 square kilometers. The physical geography is mostly mountainous but is dotted with highlands and plains. The Krabi province also comprises more than 130 large and small islands and dense mangrove forests. The Krabi River flows 5 kilometers through the town and into the Andaman Sea. Beautiful beaches run along the coast.
Natural Wonders of Krabi
Krabi's natural attractions include white sandy beaches, crystal clear water, thriving coral reefs, caves and waterfalls, as well as several small uninhabited islands. The distinguishing feature of Krabi is the massive limestone karsts that can be found throughout the province.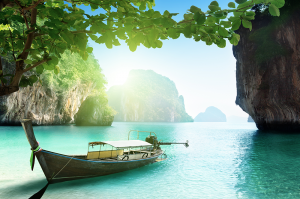 What to do around Krabi
Most activities to be enjoyed in Krabi province take place outdoors and can be reached by car. Visitors particularly travel from around the world to scuba dive in the waters of the Andaman Sea. There is much to explore and enjoy this paradise.
Some favorites include:
Tiger Cave Temple at Wat Tham Seua
Khao Phanom Bencha National Park
Koh Phi Phi lookout
Ko Klang peninsula
Tab Kak Hang Nak Hill Nature Trail
Krabi weekend night market
Thara Park
Koh Rok Island
Phra Nang Beach
10 things to do in Krabi' here.
Car Rental Pickup At Krabi Airport
Krabi International Airport (KBV) is located on the main highway, Route 4, approximately 10 km from the city limits, 15 km from the city center, 40km from Ao Nang and 23km from Had Yao.Thai Airways and Nok Air operate daily direct flights from Bangkok, Air Asia from Bangkok and Kuala Lumpur, and Tiger Airways flies direct to and from Singapore and Darwin. Bangkok Airway offers a shuttle flight to Krabi almost every day of the week. The passenger terminal consists of arrival and departure lounges, VIP rooms, shops, restaurants, and information office. Numerous transport options are available from the Krabi airport to anywhere in the province. It should be noted, however, that unauthorized taxis and public transportation are not allowed within the airport grounds. This limits arriving passengers to renting cars, pre-arranging a pickup, or using an authorized airport transport service.
Krabi Car Rental from Drive Car Rental at Krabi Airport
Drive Car Rental operates out of the Krabi airport facility on the first floor of the arrival hall. Our car rental agency offers competitive rates and a variety of vehicles to choose from. Guests to Krabi can reserve their car rental ahead of time or visit our counter upon arrival. Take advantage of our stellar customer service and high-quality cars. Drive Car Rental Thailand also offers special promotions throughout the year.
In addition to short term car rentals, we also offer long term car rental at this location.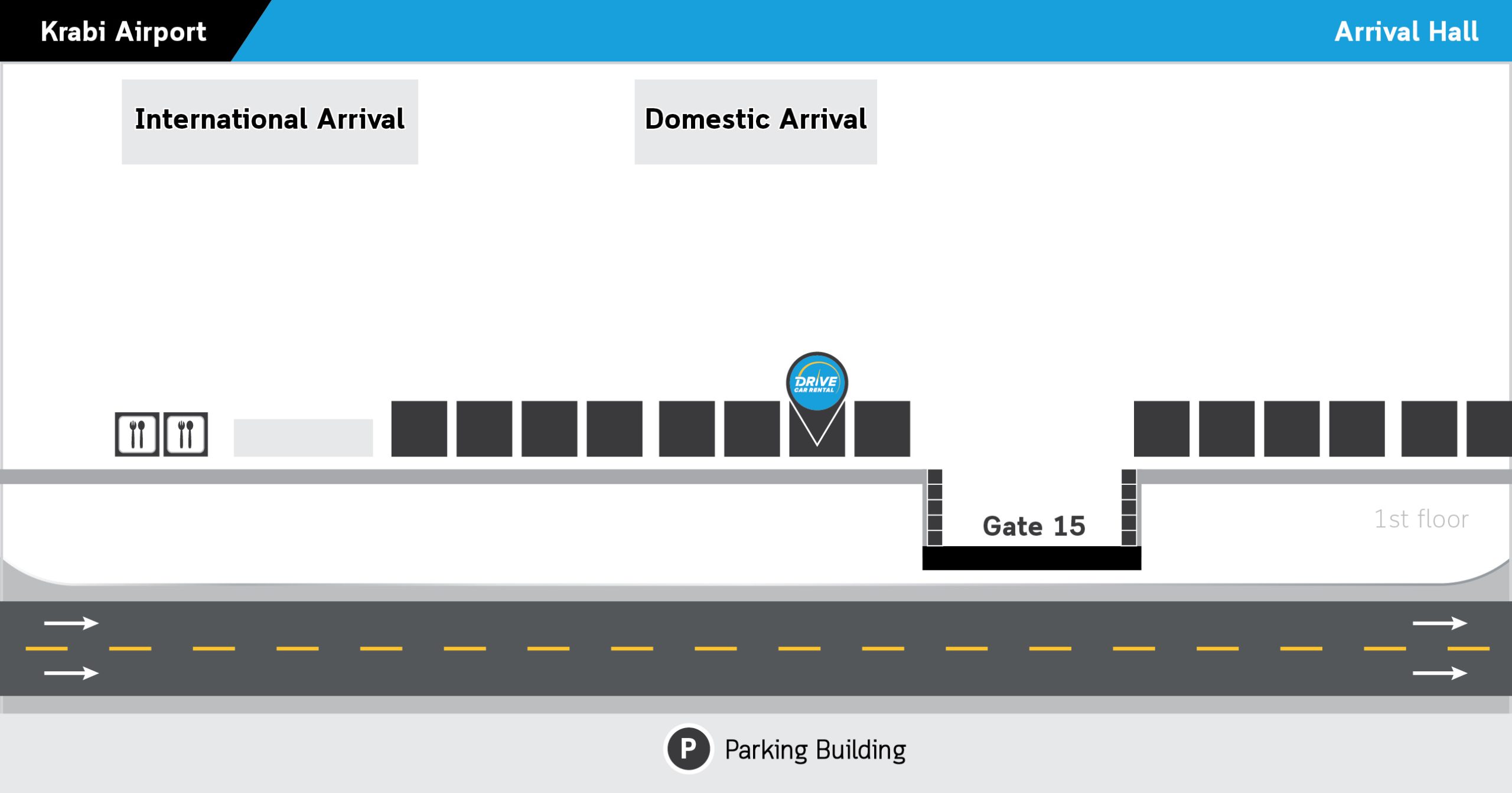 Still have questions about Krabi car rentals?
Learn more about our Krabi car rental options or book your vehicle from Drive Car Rental at Krabi Airport today.