Car Hire Pattaya
Visitors to the entertainment seaside resort province of Pattaya where the action never stops can find the most affordable car rental options by looking for Drive Car Rental at Pattaya.
Pattaya Province
Pattaya is an entertainment seaside resort where the action never stops. No matter what time of day and night, you can always enjoy a dazzling kaleidoscope of sports and recreational activities. Pattaya has been groomed for international visitors for several decades, and today it boasts the unique distinction of a beach resort with city status. Pattaya has the most popular islands and beaches, including Hat Pattaya, Hat Jomtien, Hat Wong Phra Chan, Ko Lan and Ko Sak. You can easily stay busy for a few days or settle in more long term.
Location and Geography
Pattaya is located on the east coast of the Gulf of Thailand just 150 km. southeast of Bangkok and facing a wide bay and a long majestic sweep of beach. Pattaya is easy to reach from Bangkok and other provinces.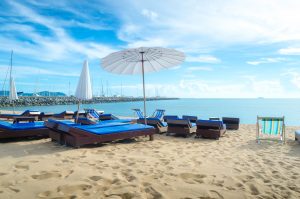 What to do in Pattaya
Pattaya has something for everyone. It makes an all-out attempt to provide the best of everything in an exhaustive mix of facilities. Some favorites include:
Walking Street
Sanctuary of Truth
Tiffany Cabaret Show
Nong Nooch Tropical Garden
Pattaya Floating Market
Wat Phra Khao Yai ("Big Buddha Hill")
Cartoon Network Amazone Waterpark Pattaya
Pattaya Viewpoint
Coral Island
Ripley's Believe It Or Not
Underwater World Pattaya
Wat Phra Yai Temple
Location
Drive Car Rental operates within the Pattaya central area and is convenient to access. Our agency offers competitive, cheap rates and a variety of vehicles to choose from. Guests to Pattaya can reserve their car ahead of time or visit our counter upon arrival. Take advantage of our stellar customer service and high quality cars. Drive Car Rental Thailand also offers special promotions throughout the year.
In addition to short term rentals, we also offer long term car rental at this location.
Contact us for more details.
Driving in Pattaya
The driving conditions are far better than in neighbouring countries, but still be wary. You may still want to practice driving defensively in and around Pattaya. Along with their being a variety of things to do in Pattaya, outside of Pattaya there is just as much so you will definitely want to rent a car to explore this exciting part of Thailand.
Parking in downtown Pattaya can be challenging, especially on weekends and during the weekday evenings. Always, check if your hotel includes off-street parking as this will be a major advantage.
You can get free parking at major supermarkets and low price parking is available near major shopping areas.
It is mandatory to carry both your passport and Driver's license wherever you drive in Pattaya.
Car Hire Collection and Rental Return Details
To collect your vehicle, please proceed to the Drive counter located near Fairtex Hotel on North Pattaya road next from the Dolphin roundabout around 200m. Our friendly staff will complete your rental agreement and vehicle pick up process.
Note: When paying via credit card, the renter's name should be on the card presented along with the available credit. Signatures should also match the ones imprinted on the card.
Car Rental Payment Types
The cards we accept are American Express, Visa, Mastercard, JCB and Union Pay.
Unfortunately, at this stage, we do not accept debit cards and cash is only accepted at specified locations – so don't rely upon these methods.
To return your rental vehicle, please contact our counter before arriving and drop off the vehicle at the pick up/drop off area in front of our office. Our friendly staff will be waiting to complete the check in process.

Be sure to check thoroughly through the car as you leave that you have not left any of your personal belongings. If you are in a hurry to catch a flight, we would advise having everything packed and ready to go before you drop the car off to delays during the inspection. Popular items that are commonly left behind include cell phones, sunglasses, and umbrellas.
Please ensure that you are on time, otherwise, late fees will be incurred.
Don't forget! Please refill the car's fuel tank before you return the car – otherwise, you will be required to pay at the end of the rental for the gas that was not replaced (be wary that the price per liter/gallon will be higher than local fuel prices should the car be returned before being refilled.
After-Hours Return Details:
A dropbox is available at the Drive Car Rental counters.
Learn more about our Pattaya car rental options or book your vehicle from Drive Car Rental today.
Additional Driver Policy:
If there are additional or multiple drivers who may potentially drive the rental, there is no additional charge. However, they still must be able to provide relevant documents such as a driving license and card or passport before driving.