Car Hire Chiang Mai
Visitors to the most distinctive culture destination and serene mountain province of Chiang Mai can find the most affordable car rental options by looking for Drive Car Rental Thailand at Chiang Mai Airport.
The Chiang Mai Province
Chiang Mai is the principal city of northern Thailand located 700 km from Bangkok. Founded in 1296 by King Mengrai as the capital of the Lanna Kingdom, Chiang Mai has had a long and mostly independent history, which has to a large extent preserved a most distinctive culture.
Natural Wonders
Chiang Mai's natural attractions include visiting remote hill tribes, spot exotic wildlife. For those who are interested in the natural side of Chiang Mai, jungle trekking is a magical experience with elephant trekking, rafting, and various hiking trails, many of which access the villages of diverse hill tribes groups.
Drive Car Rental at Chiang Mai Airport
Drive Car Rental operates within the Chiang Mai airport facility on the international terminal. Our agency offers competitive rates and a variety of hire vehicles to choose from. Drive Car Rental also offers special promotions throughout the year. In addition to short term rentals, we also offer long term car rental at this location.
Car Rental Collection and Return Instructions
To collect your vehicle, please proceed to the Drive Car Rental counter located at the international terminal between Gate no.10-11.
Note: When paying via credit card, the renter's name should be on the card presented along with the available credit.
The cards we accept are American Express, Visa, Mastercard, JCB and Union Pay.
To return your vehicle, please contact our counter before arriving and drop off the vehicle at the pick-up/drop off outside gate no.11 of the international terminal.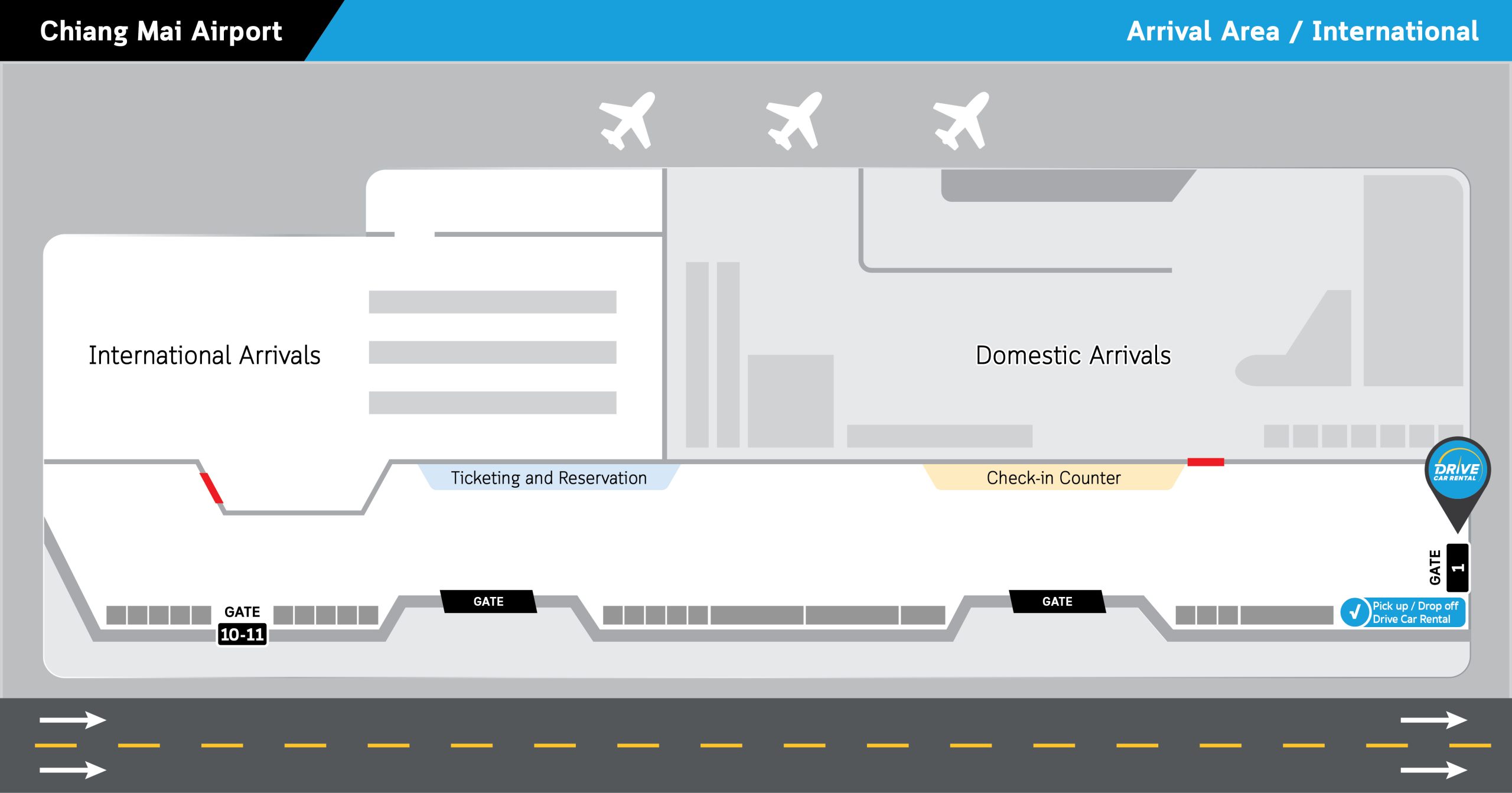 Please ensure that you are on time, otherwise, late fees will be incurred.
Don't forget! Please refill the car's fuel tank before you return the car – otherwise, you will be required to pay at the end of the rental for the gas that was not replaced (be wary that the price per liter/gallon will be higher than local fuel prices should the car be returned before being refilled.)
After-Hours Return:
A dropbox is available at the Chiang Mai Airport counter.
Learn more about our Chiang Mai rental options or book your vehicle from Drive Car Rental today.
Additional Driver Policy:
If there are additional or multiple drivers who may potentially drive the rental, there is no additional charge. However, they still must be able to provide relevant documents such as driving license and card or passport before driving.