Bangkok Car Rental from Drive Car Rental at Bangkok Suvarnabhumi Airport
Drive Car Rental operates within Bangkok Suvarnabhumi airport facility. Our car hire agency offers competitive rates and a variety of vehicles to choose from. Guests to Bangkok Suvarnabhumi airport can reserve their car ahead of time or visit our counter upon arrival. Take advantage of our stellar customer service and high-quality cars. Drive Car Rental Thailand also offers special promotions throughout the year. In addition to short term rentals, we also offer long term car rental and a chauffeur service at this airport location.
Vehicle Collection/Return Instructions
To collect your car, please proceed to the Drive counter at Bangkok Suvarnabhumi Airport located near the international arrival hall between gate 7 and 8 of the passenger terminal. Here our friendly staff will complete your rental agreement and car pick up process.
To return your car, please contact our counter before arriving and drop off the vehicle at Drive Car Rental Bangkok Suvarnabhumi Airport designated parking zone. Our friendly staff will be waiting at the airport to complete the check-in process.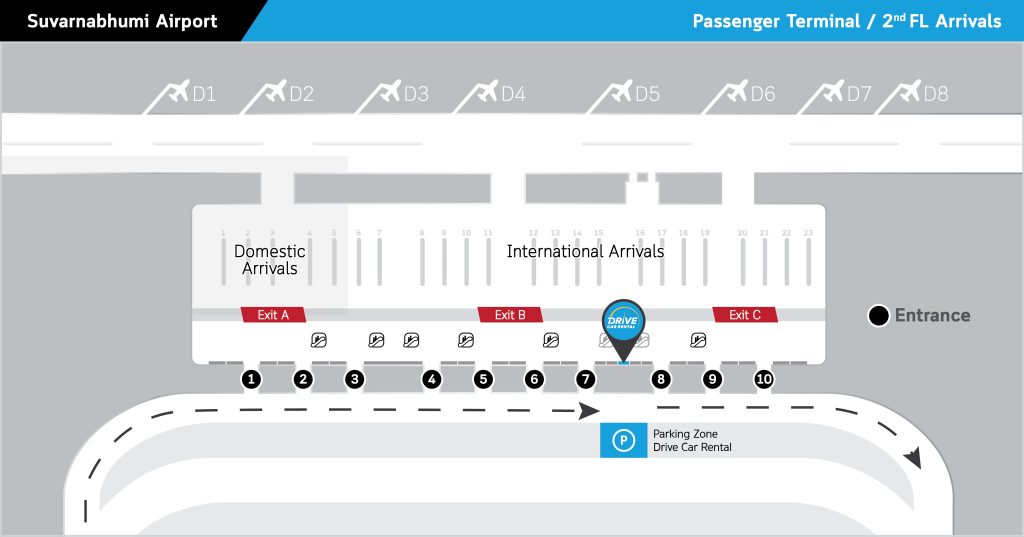 After-Hours Return:
Suvarnabhumi Airport is open 24 hours.
Handy Tips for Driving in Bangkok and Using Our Car Hire Services
Which Cars Are Best Suited to Driving in Bangkok?
Our car hire team normally recommends a smaller car for Bangkok city driving since the busy roads are easier to navigate with a compact car (you'll also find parking your car hire vehicle a little more straightforward in busy tourist destinations). However, you'll also find a comprehensive range of car hire options, including luxury and larger cars for families or if you need to transport luggage items to and from the airport.
What Driving Rules Apply Around Suvarnabhumi?
It's well worth brushing up on the local driving rules before you collect your car at the airport, even if you have visited Thailand before–regulations apply equally to car rentals and local transport. All cars drive on the left, so if you're flying to the city from the US or Europe, it can be useful to request a GPS with your car rent quote.
Drink driving is prohibited at all times, with tighter restrictions for drivers with a hire car and under five years of experience, so you shouldn't ever attempt to drive a car after consuming alcohol. When you leave our Bangkok Suvarnabhumi Airport car hire depot, you will find that drivers signal by calling through the window; this is a normal custom and can be very helpful if you've inadvertently found yourself in the wrong lane!
What Are the Best Places to Visit in Bangkok With a Hire Car?
Picking car hire as your transport option gives you the freedom to visit the thousands of world-famous sites in Thailand, from cultural temples, historical monuments and ultra-modern malls. Among the most popular are the remarkable Grand Palace, the astonishing Buddha at Wat Pho Temple, and the bustling Chatuchak Weekend Market for a touch of authentic local flavour.
Are There Thousands of Cars on the Road in and Around the Airport at Suvarnabhumi?
Bangkok's traffic can be heavy during the day, so if you're concerned about congestion, you can pick up your car hire vehicle at the airport outside of rush hour. The busiest periods around the international airport are around 7:30 to 9:30 in the morning and 5:00 in the evening. However, Bangkok International is a little outside of the city, so we can schedule a car pick-up time to suit your schedule.
Which Bangkok Car Hire Destinations Can I Choose From?
Drive Car Rental offers a network of depots to provide maximum flexibility–including our services at Bangkok Airport, Donmuang Airport, and several other offices throughout Thailand. Simply select your car pick-up location through our convenient online portal for a full range of options to compare, or search for the closest office depending on where your flights are due to land.
Our Car Hire Advice for Travellers Flying Into Suvarnabhumi
We suggest reserving your preferred car hire vehicle at least a week before you arrive at the airport to access the best deals and your choice of car hire options. You can select your Thailand pick-up location, date and time, along with your return dates online to view pricing options and car rental deals consistent with your travel dates.