Bangkok Car Rental from Drive Car Rental at Bangkok Suvarnabhumi Airport
Drive Car Rental operates within Bangkok Suvarnabhumi airport facility. Our agency offers competitive rates and a variety of vehicles to choose from. Guests to Bangkok Suvarnabhumi airport can reserve their car ahead of time or visit our counter upon arrival. Take advantage of our stellar customer service and high-quality cars. Drive Car Rental Thailand also offers special promotions throughout the year. In addition to short term rentals, we also offer long term car rental and a chauffeur service at this location.
Vehicle Collection/Return Instructions
To collect your vehicle, please proceed to the Drive counter at Bangkok Suvarnabhumi Airport located near international arrival hall between gate 7 and 8 of the passenger terminal. Here our friendly staff will complete your rental agreement and vehicle pick up process.
To return your vehicle, please contact our counter before arriving and drop off the vehicle at Drive Car Rental Bangkok Suvarnabhumi Airport designated parking zone. Our friendly staff will be waiting to complete the check-in process.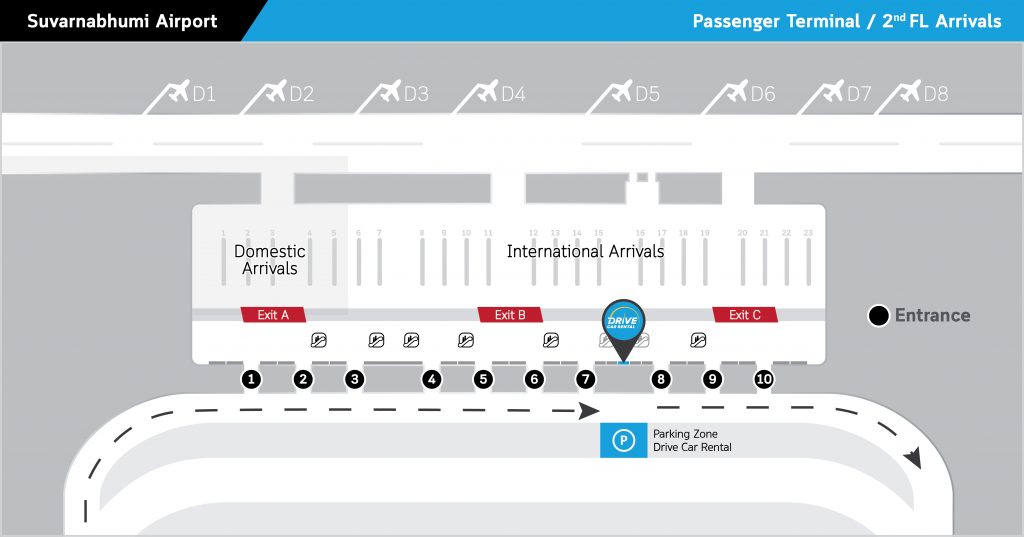 After-Hours Return:
Suvarnabhumi Airport is open 24 hours