Phuket Car Hire for City Travel
Visitors to the serene coastal province of Phuket, Thailand can find the most affordable car rental options by looking to Drive Car Thailand at Phuket Airport. Our Phuket airport car rental services makes it simple and easy to hire a car to transport you to and from the airport and around the city. Car hires are available on a day to day basis or for an extended period of time.
The Phuket Province of Thailand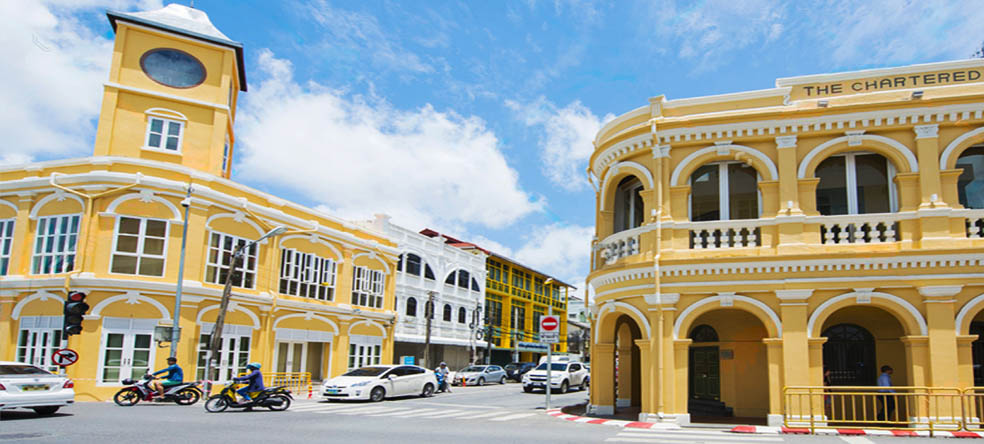 Phuket glory is its magnificent coastline and often referred to as the Pearl of the Andaman. They formerly derived its wealth from tin and rubber, and have a rich and colourful history. The island was on one of the major trading routes between India and China. Blessed with nature and the smiling hospitality of its people, Phuket is today one of the world's premier tropical resorts. Palm-fringed beaches, an island-studded sea, superb accommodation, delicious seafood, numerous sporting and leisure opportunities from sea kayaking, scuba diving, fishing to yachting. These are just a few of what makes it a truly memorable beach trip. The region's most popular islands and beaches, including Hat Mai Khao, Hat Rawai, Hat Patong Ko Racha Yai, Ko Nakha. 
Location and Geography of Phuket
Phuket borders the Andaman Sea and is located 867 kilometers south of Bangkok. Phuket Island is the largest island in Thailand which covers an area of 576 square kilometers. The island also has another 32 smaller islands off its coast. The physical geography is mostly mountainous but is dotted with highlands and plains. The city is also comprised of smaller islands which include Ko Lone, Ko Maprao, Ko Naka Yai, Ko Racha Noi, Ko Racha Yai. The Similan Islands lie to the northwest and the Phi Phi Islands to the southeast. 
Natural Wonders of Phuket
The natural attractions include white sandy beaches, crystal clear water, thriving coral reefs, caves and waterfalls, as well as several small uninhabited islands. The distinguishing feature is the massive limestone karsts at Phang Nga Bay (James Bond Island).
What to do in Phuket
Most activities to be enjoyed in the city of Phuket take place outdoors and are easy to reach with a car hire. Visitors particularly travel from around the world to scuba dive in the beach waters of the Andaman Sea. There is much to explore and enjoy in this paradise. Some favorite things to experience include:
Phang Nga Bay

Old Phuket Town

Bangla Road Nightlife 

Big Buddha

Wat Chalong and Phuket Temples

Simon Cabaret Show

Koh Phi Phi
Phuket FantaSea Show
Phuket Viewpoints
Thai Boxing (Muay Thai)
The city also offers hotels, restaurants, and plenty of other attractions while on your holiday. Whether you want to travel to the beach for a day trip or spend time exploring this fun city, you can easily do so with a car hire from the airport. You can learn more about car hire options below.
Phuket Airport Profile and Car Services
Phuket International Airport (HKT) is located in the north of Phuket, 32 kms from the centre of town. Thai Airways, Bangkok Airway, Thai Air Asia, Nok Air and Thai Lion Air operate daily direct flights to Phuket airport from Bangkok. Emirates, Ethihad and Qatar Airways flies direct to and from the Middle East. SilkAir and Jetstar Asia Airways to and from Singapore, and Malaysia Airlines fly directly to and from Kuala Lumpur. The airport has two passenger terminals. Terminal 1 is used for international flights and Terminal 2 for domestic flights. Both airport terminals consist of arrival and departure lounges, VIP rooms, shops, restaurants, and information office. Numerous transport options are available from the airport to anywhere in the province. It should be noted, however, that unauthorized taxis and public transportation are not allowed within the airport grounds. This limits arriving passengers to renting cars, pre-arranging a pickup, or using an authorized airport transport service. You can get a car hire in Phuket airport to transport you to the sites around the city.
Car Hire Phuket Airport
Our car hire services operate within the airport facility on both the domestic and international terminal. Our car rental agency offers competitive rates and a variety of vehicles to choose from. We also offer car hire deals that provide competitive price points for when you hire a car service. Guests to Phuket can reserve their car ahead of time or visit our car hire counter upon arrival. Take advantage of our stellar customer service and high-quality cars that are available for hire. We also offer special promotions on car rentals throughout the year, so you can always check back for more details on price changes. In addition to short term rentals, we also offer long term car rental and a chauffeur service at this airport location.
Car Hire Collection and Rental Return Instructions
International Terminal:
To collect your car, please proceed to the car hire Drive counter located on the ground floor inside the airport arrival hall. Here our friendly staff will complete your car hire agreement, the pick-up process will be done at the pick up/drop off area at gate 4 of the international terminal at the airport to ensure your smooth travel.
To return your car, please contact our car hire counter before arriving and drop off the vehicle at the pick-up/drop off outside the domestic terminal. Our friendly staff will be waiting to complete the check-in process for your car hire.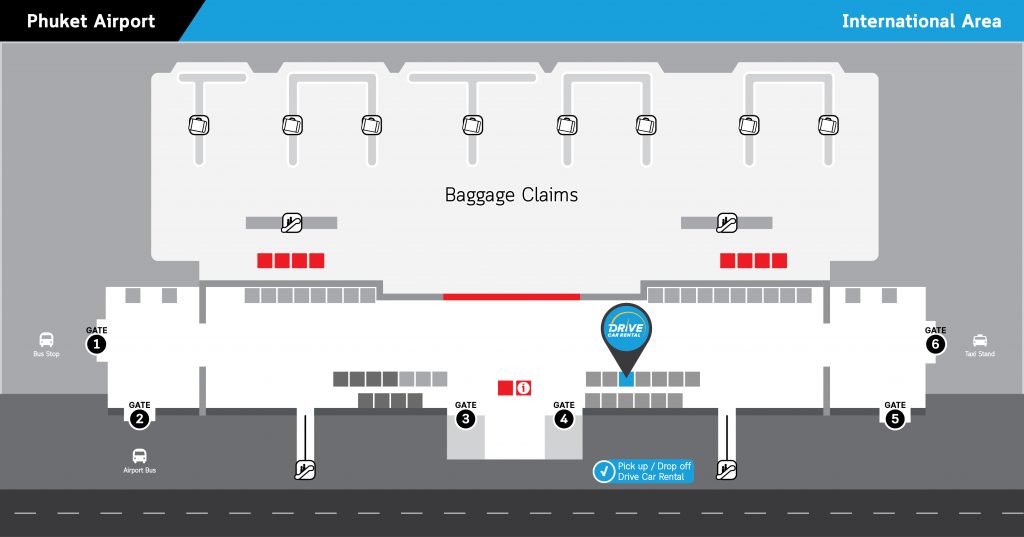 After-Hours Car Rental and Return Details at Phuket Airport:
A car hire return dropbox is available on site at the airport at Drive Car Rental Thailand counters.
Learn more about our car hire options or book your vehicle from Drive Car Rent Phuket Airport today.